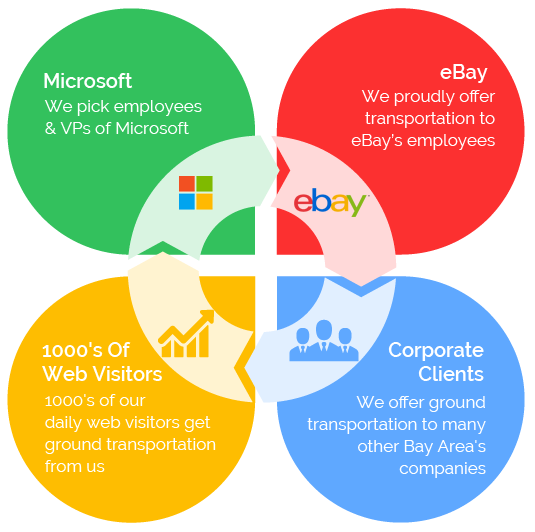 San Francisco Rental for Affiliates
Sflimoservice.com offers quality farm-out jobs for quality transportation service providers in San Francisco and the Bay Area. We also can offer transportation to your clients with our later model fleet of limos and buses.
Send us an inquiry today and we will be in touch with you to discuss if we can work together.

API
We offer customer APIs so that you sync with our system from the back-end to offer rates for your customers locally and worldwide

White Label iFrame
We also offer iframe options, where your customers can seamlessely come to our system to get rates.

Travel Agents
We also work with travel agents, give them discounted rates and handsome commisions, to book transportation for their clients.
Helpful
Training
We offer our affiliates training to use our simple, effective system to accept and farm-out jobs.

High average
Job Value
We farmout jobs that pay well and our from quality customers

Advanced scheduled &
On-Demand Work
We can farm-out or farm-in on-the-spot, on-demand transportation bookings.
Testimonials from our Affiliates
Party Bus farm-ins are super helpful from Sflimoservice.com, well paid jobs.
– Raj Singh, Bay Area Limousine
A constant flow of SUV and sedan runs to SFO and OAK airport helps our company out.
– Juan Sergio, Kings Limo
We book jobs for LAX and San Diego with online portal of Sflimoservice.com. It's a quick and easy way to get transportation for our customers.
– Sanjeev, Platinum Limousine
For quality CPUC licensed companies
It's simple to get started

Signup Online
Signup today to apply for your account's approval.

Upload documents &
your rates
Upload some needed documents & we'll be in touch with you.

We'll call to show you
the process
Once we recieve the form, we'll contact you shortly after to discusss the options